Holy cow, its been a while! I am easing into slow down mode, and much needed. I promise to be around more often!
Linking up with Shannon from "
Life After I Dew
" for So What Wednesday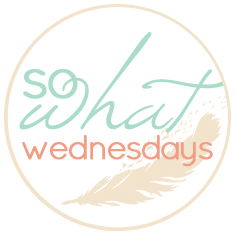 SO WHAT IF ......
.... I haven't blogged in 25 days. (actually i dont like this, at all. But I am happy to have my time back to blog)
.... I have only been gone form home for 4 days and I'm already homesick
.... I plan on sleeping on the plane the entire way home tomorrow
.... I had too many cinnamon/sugar soft pretzels at the hotel this week
.... I haven't cooked a meal in 3 weeks
.... I decided for the first time in my life to not fold my clothes nice and neatly into my suitcase for my return home. All I want to do is go to bed tonight, so everything is getting tossed in.
.... I missed Tavistock Cup yet again this year.... still haven't gone and my husband has gone three times. Maybe in 2 years when it's back?
.... I online shopped myself stupid while I was away this week.
.... I had a brownie everyday after lunch, they were worth it and I dont like dessert.
.... My new favorite snack is Skittles, the dark side version
Hope you all have been well. I promise to keep up on this! Promise!
-b